Section: War in Donbas
Russian troops' shooting attacks continued non-stop in Donbas in the last day. 3 Ukrainian soldiers reported as killed in action, 2 of them were killed in the vicinity of Halytsynivka as a result of Russian troops' attacks from Grad MRLS (multiple launch rocket system), and 8 Ukrainian soldiers were wounded in action, according to the press...
Russian troops increased their combat activity along the entire frontline, shelled day and night. They brought up additional artillery reserves which resulted in increased number of attacks from cannons and Grad multiple rocket launcher systems (Grad MRLS). 4 Ukrainian troops were killed, 19 troops were wounded, according to the press service of...
Russian troops used residents of the occupied city Donetsk in Donbas as a human shield deliberately risking the lives of the civilians in the area while shelling Avdiivka town on Ukrainian territory, according to report of Bellingcat International investigative group in collaboration with the Conflict Intelligence Team (CIT). Bellingcat...
At about 9:15 p.m., Feb. 2, a massive explosion took place in Russian-controlled Donetsk. Video from security camera: Journalist Denys Kazanskyi wrote on Facebook: "Information is circulating online about a strong explosion near Motel [a hotel in Donetsk] not far from my house, where I lived before the war. "Militants initially...
Russian troops fired at Ukrainian army positions and civil objects in Donbas in all sectors 67 times in the past 24 hours. 2 Ukrainian soldiers reported as killed in action (KIA) and 14 wounded in action (WIA), 2 civilians were killed and 6 injured, according to the press service of the Anti-Terrorist Operation (ATO) Headquarters. Russian troops...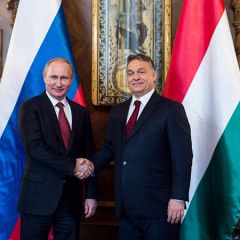 On February 2, 2017, the President of the Russian Federation Vladimir Putin has come with the official visit to Hungary and met with Hungarian Prime Minister Viktor Orban. This is the second Putin's official visit to Budapest in two years since the introduction of sanctions against the Russia Federation because of its illegal annexation of Crimea...
Russian troops reject any ceasefire agreement, continue attempts to start offensive and take control of new Ukrainian territories, and continue intense shelling from tanks and artillery. Russian militants fired from Donetsk on Tonenke village and Avdiivka. In Avdiivka 1 civilian wounded, 8 houses and a power line damaged. One Ukrainian troop was...
The Kremlin spokesman Dmitry Peskov states that the escalation of the conflict on the contact line in Donbas can be cause for the immediate resumption of cooperation between Russia and the United States, according to Lenta.ru. Dmitry Peskov reminded that the Russian President Vladimir Putin and the USA President Donald Trump in a recent telephone...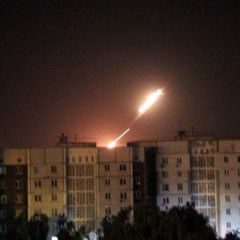 Russian forces continue to shell Avdiivka in Donbas from Grad missile launchers, tanks and 152 mm artillery. Russian troops shelling Avdiivka civilian objects from Donetsk residental area: In the Donetsk sector, the Russian troops launched about 100 shells from Grad missile launchers, tanks and 152 mm artillery were used during today's attacks to...
Permanent Representative of Ukraine to the United Nations (UN) Volodymyr Yelchenko has addressed UN Secretary General Antonio Guterres with a letter against the background of the escalation in Donbas and the shelling of Avdiivka in Donbas by Russian militants, according to Volodymyr Yelchenko's official Twitter page. "We demand from the...