US President Joe Biden said he didn't give up his words that Russian President Vladimir Putin cannot stay in power. Source: The President of the USA Joe Biden Biden stressed that this did not mean a change in US policy towards Russia, and his opinion was based on emotions during the day. "I don't care what Putin thinks of my comment," Biden...
Read More
The Kremlin reacted to US President Joe Biden's statement that Vladimir Putin could no longer remain in power. Source: Kremlin spokesman Dmitry Peskov "Biden doesn't have to decide. The president of Russia is elected by the Russians," he said when asked about Biden's comment. Earlier, US President Joe Biden during...
Read More
US President Joe Biden said that a dictator who wanted to build an empire could not remain in power. Source: the US President Joe Biden "A dictator who tries to build an empire will never overcome the love of freedom among the people. The world will be free! Ukraine will never be a victory for Russia. Because free people don't want to...
Read More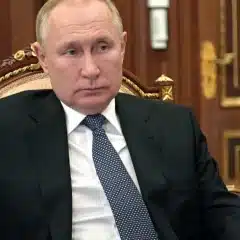 US President Joe Biden called Kremlin leader Vladimir Putin a "butcher" after meeting with Ukrainian refugees in Warsaw. Source: the US President Biden revealed that he had visited places with refugees. He noted that he was always surprised by "the depth and strength of the human spirit." "It's unbelievable....
Read More
Today in Warsaw, President Joe Biden will meet with Ukrainian Defense Minister Oleksiy Reznikov and Foreign Minister Dmytro Kuleba. Source: Ambassador of Ukraine Andrii Deshchytsia The meeting will also be attended by Secretary of the USA Antony Blinken and Secretary of Defense Lloyd Austin. This will be Biden and Kuleba's first...
Read More
Several thousand people rallied in Warsaw on the day of US President Joe Biden's visit. The action was called "Stop promising, start acting!" Several thousand Ukrainians, sheltered by Poland, gathered near the building of the Palace of Culture and Science. With Ukrainian posters and flags, people from cities shot by Russia...
Read More
US President Joe Biden's plane landed at the airport near Rzeszow, Poland. This is first Biden's visit to Poland as President of the United States. It will last two days. In Rzeszow, Biden is scheduled to meet with Polish President Andrzej Duda and the US 82nd Airborne Division, and then he will fly to Warsaw. Negotiations with Duda...
Read More
Russian Foreign Minister Sergey Lavrov said on Wednesday that sending peacekeepers to Ukraine could lead to a direct confrontation between Russia and NATO. Source:  the Russian Foreign Minister Sergei Lavrov "Our Polish colleagues have already stated that there will be a NATO summit, and there is a need to send peacekeepers to Ukraine. I...
Read More
The US plans to make it easier for Ukrainian refugees to arrive in the United States this week. Source: Reuters It's about speeding up visa processing for relatives of US citizens and green card holders and appointing more immigration officials to process applications for Temporary Protected Status. At the same time, special attention will be...
Read More
US President Joe Biden, who is traveling to Europe for an emergency NATO summit, will discuss the deployment of a peacekeeping forces in Ukraine during a visit to Poland on March 25. Source: the US ambassador to the UN Linda Thomas-Greenfield She noted that the United States is not going to send its troops to Ukraine, but will support its NATO...
Read More