Section: Video
On September 6, a day-long ceasefire in eastern Ukraine was broken when pro-Russia forces shelled Ukrainian tanks driving into Mariupol. VICE News correspondent Simon Ostrovsky was in the city before, during, and after the ceasefire, and traveled to Mariupol's Eastern checkpoint as it endured the...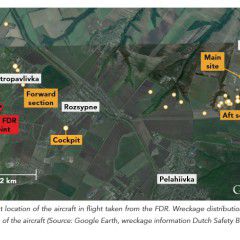 DSB (Dutch Safety Board) prepare video with explanation of the preliminary report by Chairman of the Safety Board Tjibbe Joustra (previously, he was National Coordinator of Nationaal Coördinator Terrorismebestrijding). Read more about preliminary report of the causes of the MH17 flight...
Kyiv, September 4th, 2014 – Ukrainians are defending their country themselves, but they want and must have greater support, because what is happening in Ukraine is about far more than Ukraine, it is about the principles of international order which has brought peace to the world since 1945. This was declared by John McCain, the U.S. Senator...
CONSOLIDATED DATA OF THE INFORMATION AND ANALYTICAL CENTRE OF THE NSDC OF UKRAINE 12:00 – 22 AUGUST 2014 Part 1 Part 2 Today at 11:10, 34 trucks from the Russian humanitarian convoy headed autonomously toward Ukraine through the checkpoint "Izvaryne" that is temporarily under the control of terrorists. They are moving without support and...
Ukrainian paratroopers shot down Russian drone which a flight over the Ukrainian position 21.08 2014
VICE News crew traveled to the Rostov Region in Russia, which is on the border of Ukraine, to investigate Moscow's involvement in the conflict. They visit a hospital where injured rebel fighters were brought by Russian forces to be treated for their injuries, and speak to them about their take on the current crises in Eastern Ukraine....