Section: Video
A bombing attack took place at 7:30 am on November 2 at a checkpoint near Mariupil. In result two Ukrainian soldiers were killed and one injured. The driver of a car with explosives is also dead. By the first version that driver was a suicide bomber, but there was a possibility that he didn't know what exactly was in the luggage. Now...
The famous Russian actor Mikhail Porechenkov arrived in Donetsk to support Russian fighters from the DNR. Porechenkov not only illegally crossed the border, but pretending to be a journalist, as it was marked "Press" on his helmet. He personally shot at the Ukrainian militaries, who hold the Donetsk...
The Ukrainian World Congress (UWC), in conjunction with the Ukrainian Congress Committee of America, provided more than 330 elections observers for Ukraine's early October 26 parliamentary elections. The organization observed the elections through the monitoring of polling stations, as well as meeting with NGO representatives, the Central...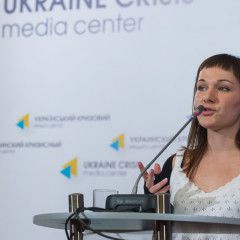 Margo Gontar,"StopFake" editor and co-founder, during her briefing at the Ukraine Crisis Media Center presented a fresh set of Russian media-fakes and told about key directions of Russian propaganda transformation. According to Margo, Russian media have a traditional "translation issue". A great evidence for this is the Russia's country-wide...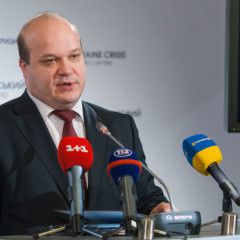 Ukraine's security and well-being requires strengthening relations with Western partners in Europe. This was stated by the deputy head of Ukraine's Presidential Administration Valeriy Chaly during his press briefing at Ukraine Crisis Media Center. The Ukrainian government must forge closer relations in the economic, military, and technical sphere...
During the last week continues the extremely active attacks on the Donetsk airport, which Russian separatists can not take the third month. Ukrainian troops that control the airport keep continue to repel the attacks. Attacker's losses for two weeks were over 300 killed. Artillery attacks on airport. Separatist's video. Why the...
On the 28th of September 2014 the Head of Kharkiv Regional State Administration Igor Baluta signed the official order about the dismantling of the monument to Lenin in Svoboda Sq. (Freedom Square) in Kharkiv and extract it from the State Register of Immovable Monuments of Ukraine. The Interior minister's advisor Anton Heraschenko reported about...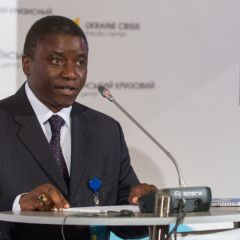 "Civil society, churches, and volunteers and making heroic efforts across the country," he stated. Despite these grassroots efforts, discrimination against IDPs continues to be a problem in Ukraine. The Ukrainian government must improve coordination between state bodies, and build effective programs to improve and ensure assistance to those in...
Petro Poroshenko, the President of Ukraine, addressed a joint meeting of Congress on Serptember 18, thanking lawmakers for their support of Kiev in its fight against Russian separatists and asked US for military...
YAVORIV, Ukraine (Sept. 16, 2014) — Soldiers from 15 nations began two weeks of collective training, with a ceremony yesterday, at the International Peacekeeping and Security Center here, to mark the official start of Rapid Trident 2014. Rapid Trident is an annual U.S. Army Europe-conducted, Ukrainian-led multinational exercise designed to...