Section: Video
On Thursday, February 5, Angela Merkel and François Hollande came to Kyiv with a new peace plan to stop the conflict in East Ukraine. Earlier President of Ukraine Petro Poroshenko hold the meeting with U.S. Secretary of State John Kerry. As a Ukrainian government source told Angela Merkel and François Hollande landed in the capital of Ukraine and...
As it was announced, on February 5, United States Secretary of State John Kerry came to Ukrainian capital to meet with the Ukrainian President, Prime Minister Arseniy Yatseniuk, Foreign Minister Pavlo Klimkin and members of the Ukrainian parliament. During the meeting with Poroshenko Kerry told about $16.4 million in aid to help Ukrainians...
Video is correct. The data is not correct because this video was made by the simplest Chinese car DVR (very popular in Ukraine) which often resets its time and data. Shelling starts at 3:13 Shelling starts at...
Mariupol is a prominent port and industrial city located 95 kilometers south of Donetsk. "Today on 24 January at about 9.00, several shells fired by terrorists hit the market area Kyivsky in Mariupol. City mayor Yury Khotlubei and all city utilities managers arrived at the scene of the incident," the statement said. Mariupol's...
On Thursday, January 22, terrorists have shelled a trolleybus in Donetsk, killing civilians. Shelling hit a passenger transport in the area, where there were no military clashes, the Ukrainian Defense Ministry press service reports. "The shelled trolleybus has been at a distance of more than 15 kilometers from the location of the ATO...
See also: Terrorists killed more then 10 civilians near Volnovakha. Video from the bus after...
As the result of shelling by terrorists the territory near Volnovakha in Dokuchaevsk's side were killed ten civilians and injured another 13 are in serious condition. As in the case of Malaysian "Boeing" official channels of terrorist groups "DNR" and "Novorosiya" at first reported "success"...
This video was created with the professionals at Nordic Filmworks, Sumo Studios, and Blondy Photography from Canada. Their message: With the crisis in Ukraine unfolding it is important that the people of Ukraine know that we stand in solidarity with them. Share and tweet this video with your friends and let's show Vladimir Putin the power...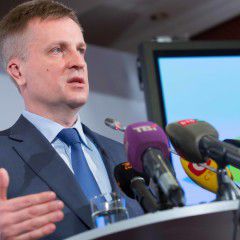 Kyiv, November 18, 2014. The State Security Service of Ukraine (SBU) has detained a handful of Russian-trained saboteurs in Kharkiv region of Ukraine. This was stated at Ukraine Crisis Media Center by Valentyn Nalyvaichenko, the Head of the Security Service of Ukraine. The saboteurs planned to carry out terrorist attacks with Russian-supplied...