Section: Top stories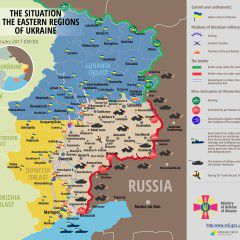 Russian troops shelled at Ukrainian territories massively using heavy weapons in Donbas in the last day. Russian troops conducted over 60 attacks in Donbas in the past 24 hours, 1 Ukrainian serviceman reported as killed in action (KIA), 1 as wounded in action (WIA), the death of the missing soldier was confirmed, a serviceman who was badly...
Russia's ambassador to the United Nation Vitaly Churkin has died suddenly in New York. The New York Post first reported that Vitaly Churkin, 64, had suffered a heart attack at the Russian consulate on East 67th street in Manhattan. The report adds that Churkin was unconscious when paramedics arrived at the location. He had been serving as...
At least 10 people were injured in the clashes between police and protesters in the center of Kyiv. It is reported by the correspondent of 112 Ukraine. Protesters who wanted to gather outside the Presidential Administration building on Bankova Street demand suspending trade with occupied areas in Donbas. "Now the situation is calm. Several...
Moscow orchestrated an attempted coup during Montenegro`s October 16 election in a bid to stop the country from joining NATO, a Montenegrin prosecutor said Sunday evening, according to POLITICO. "So far we have had evidence that Russian nationalist structures were behind [the plot], but now also that Russian state bodies were involved at a...
A Ukrainian Defense Ministry spokesman has announced Russia`s hybrid military forces continue shelling Ukrainian positions along the entire contact line, and new escalation has been reported near the Ukrainian-controlled town of Avdiyivka as Ukrainian troops deployed outside it come under attack. View map in full size "Enemy troops enjoyed the...
A senior U.S. Republican senator on Sunday urged President Donald Trump to take action against Russia over allegations that Moscow interfered in the election that brought him to power, according to ABC News. U.S. intelligence officials have told Trump that Moscow tried to influence voters by hacking Democratic emails and trolling social media...
Shortly after U.S. Vice President Mike Pence pledged to "hold Russia to account" while looking for common ground in a speech to European allies, a hawkish Russian legislator reached out to shake his hand as he passed through a crowded hotel corridor, according to Bloomberg. "Mr. Vice President, I am from Moscow and we hope we will reach those...
Russian troops continued intensive lengthy attacks massively using heavy weapons in Donbas during the last day. 4 Ukrainian troops were wounded, and 1 volunteer killed. Russian troops' shells hit 2 residential buildings, 2 civilians were injured in the last day, according to the press center of the Anti-Terrorist Operation (ATO) Headquarters....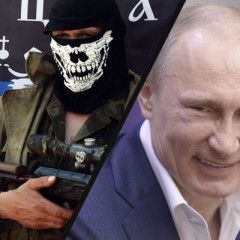 Russia has recognised the validity of the identity (ID) "documents" issued by the authorities of the so-called "DNR" and "LPR" (Donetsk and Luhansk People`s Republics), according to a decree issued by Russian President Vladimir Putin. As reported, the decree is signed "in order to protect the civil rights and freedoms." It also refers to "the...
On February 20, Ukraine honors memory of the Heavenly Hundred Heroes The commemorative events will take place in Kyiv on February 18-22. Police and rescue services were put on combat alert due to a higher level of terrorist threat. Head of the State Emergency Service of Ukraine Mykola Chechetkin says that about 7,000 personnel and 2,000 units of...