Section: War in Donbas
At least 10 people were injured in the clashes between police and protesters in the center of Kyiv. It is reported by the correspondent of 112 Ukraine. Protesters who wanted to gather outside the Presidential Administration building on Bankova Street demand suspending trade with occupied areas in Donbas. "Now the situation is calm. Several...
Russia`s decision to recognize identification documents issued by separatists in eastern Ukraine will hurt the chances for a ceasefire to take hold, the head of the Organization for Security and Cooperation in Europe (OSCE) told RFE/RL on February 19. The abrupt Russian move is also a setback for efforts to end the war that has killed more than...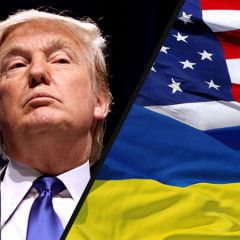 A week before Michael T. Flynn resigned as national security adviser, a sealed proposal was hand-delivered to his office, outlining a way for President Trump to lift sanctions against Russia, The New York Times reported. According to The New York Times, Andrii V. Artemenko, the Ukrainian lawmaker, who sees himself as a Trump-style leader of a...
OUN Battalion chief Mykola Kokhanivsky detained during Sunday clashes in Kyiv between police and protesters against trade with Russian militants in Donbas has been released from Kyiv`s Desniansky district police station, according to 112.ua. "Mykola has been released," Verkhovna Rada member from the Radical Party Andriy Lozovyi wrote on Facebook,...
A Ukrainian Defense Ministry spokesman has announced Russia`s hybrid military forces continue shelling Ukrainian positions along the entire contact line, and new escalation has been reported near the Ukrainian-controlled town of Avdiyivka as Ukrainian troops deployed outside it come under attack. View map in full size "Enemy troops enjoyed the...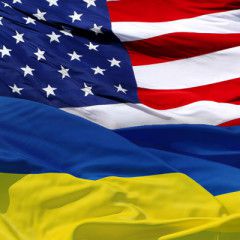 The U.S. Embassy in Kyiv says that the recognition by Russia of passports issued by the self-proclaimed republics in eastern Ukraine – the so-called Donetsk People`s Republic ("DPR") and Luhansk People`s Republic ("LPR") – is inconsistent with the Minsk peace process. "Russian recognition of documents from separatist `republics` [is] troubling...
A senior U.S. Republican senator on Sunday urged President Donald Trump to take action against Russia over allegations that Moscow interfered in the election that brought him to power, according to ABC News. U.S. intelligence officials have told Trump that Moscow tried to influence voters by hacking Democratic emails and trolling social media...
Shortly after U.S. Vice President Mike Pence pledged to "hold Russia to account" while looking for common ground in a speech to European allies, a hawkish Russian legislator reached out to shake his hand as he passed through a crowded hotel corridor, according to Bloomberg. "Mr. Vice President, I am from Moscow and we hope we will reach those...
President of Ukraine Petro Poroshenko says Putin`s decision to recognize the passports issued by the pseudo-authorities of the so-called "DPR" and "LPR" (Donetsk and Luhansk People`s Republics) is another evidence of Russian occupation and violation of international law, journalist quoted him as saying after talks with U.S. Vice President Mike...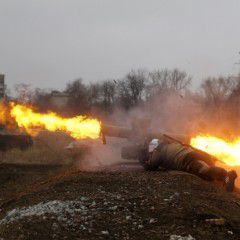 A skirmish between Ukrainian troops and Russia`s hybrid military forces near the Ukrainian-controlled town of Avdiyivka in Donbas, eastern Ukraine, was reported to have broken out at about 05:00 a.m. local time on Sunday, February 19, 2017, according to the press center of the Ukrainian Anti-Terrorist Operation (ATO) Headquarters. "The militant...