Section: War in Donbas
Russia`s hybrid war against Ukraine is now entering its fourth year, but there was a time when few expected it to last even four weeks given the virtually bloodless seizure of Crimea, which fell to Russian troops in early 2014 without a fight, Peter Dickinson wrote in his column for Atlantic Council titled "Why Did Putin Get Stuck in Eastern...
The Associated Press tells a story of Lithuanian volunteers` assistance to Ukrainian government forces in their struggle against pro-Russian rebels by supplying non-lethal military aid, such as night-vision goggles, helmets, bullet-proof vests and telescopic sniper sights, as well as packing colorful teddy bears for children — to help ease...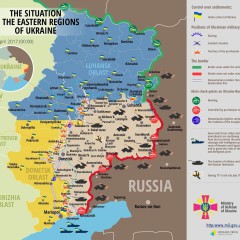 Russia`s hybrid military forces attacked Ukrainian army positions in Donbas 47 times in the past 24 hours with two Ukrainian soldiers reported as killed in action (KIA) and eight as wounded in action (WIA), according to the press service of the Anti-Terrorist Operation (ATO) Headquarters. View map in full size The worst situation was in the...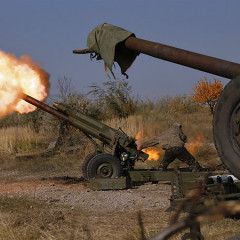 Two soldiers of the Armed Forces of Ukraine were killed in a shelling of fortified positions of Ukrainian troops by Russian-controlled militants outside Avdiyivka, according to the press center of the ATO headquarters. "According to preliminary information, two soldiers of the Ukrainian Armed Forces were killed as a result of the shelling of the...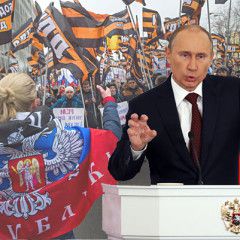 The Ukrainian citizen earlier detained in Russia`s Samara allegedly for spying for Ukraine`s intelligence services was deported from Russia to the militant-controlled area of Donetsk region, the self-styled "Donetsk People`s Republic," TASS reported with reference to the regional office of the FSB Federal Security Service. "A citizen of Ukraine,...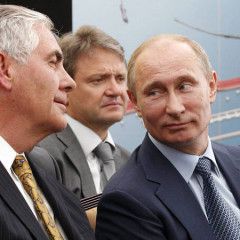 Exxon Mobil Corp on Wednesday declined to comment on a media report that it is seeking permission from the U.S. government to drill in several areas of the Black Sea banned by U.S. sanctions on Russia, according to Reuters. The Wall Street Journal reported that Exxon had in recent months applied to the U.S. Treasury Department for a waiver to...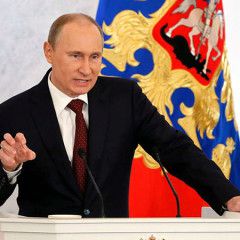 Secretary of the National Security and Defense Council of Ukraine Oleksandr Turchynov claims that if Russia chooses to further advance in Ukraine, the invasion will take from two to three hours. "The Russian units stationed near the state border [with Ukraine] are capable of arriving in the territory of our state and assisting hybrid troops in...
British Prime Minister Theresa May welcomed Ukrainian President Petro Poroshenko to Downing Street on Wednesday, saying Britain was "ready to support" Ukraine which is under threat from Russia, according to The Sun. Prime Minister May also vowed to push for further sanctions on Russian President Vladimir Putin, The Sun reports. Yesterday Moscow`s...
Russia has used the T-90 main battle tank and its variants in occupied Donbas, which currently represent "the peak of armored warfare capability of Russian ground forces," according to Bellingcat, an international OSINT community. "In the summer of 2014, reports of T-90 family tank sightings in eastern Ukraine started to appear," Bellingcat said...
Some 43% of Ukrainians consider elections in Donbas "unacceptable in principle," according to the poll by Ilko Kucheriv Democratic Initiatives Foundation. "People want peace, but not at any cost. Only about 20% of the population agree to peace at any price. The majority are ready to make compromises, but not all compromises," director of the...