Section: Photos
The self-propelled artillery 2S1 Gvozdyka, destroyed in Horlivka on the 16th of November,...
The funny fashion show was held in Kyiv's Podil district. Local volunteers showed the results of their work – the Ghillie suits for Ukrainian soldiers who are fighting against Russian troops in Eastern Ukraine....
On the 19th of October 2014 the Ukrainian community in Japan has organized and hold the first Ukrainian Festival "ウ ク ラ イ ナ DAY – Ukrainian Day" in Tokyo. Ukrainian festival attended about 500 people in Japan: Ukrainian, Japanese, French, Indians, representatives of other nationalities. Ukrainian Ambassador to Japan Igor Kharchenko had the...
Putin uses sport for propaganda of the idea of greatness of the Russian Empire as Hitler did for the Third Reich propaganda in 1936 when he covered the Olympic complex in Berlin with Nazi banners, and promoted Aryan athleticism. See also: Hitler and Putin. The Rise of Evil. Infographic Putin as his idol Joseph Stalin also considers the TV and...
During the last week continues the extremely active attacks on the Donetsk airport, which Russian separatists can not take the third month. Ukrainian troops that control the airport keep continue to repel the attacks. Attacker's losses for two weeks were over 300 killed. Artillery attacks on airport. Separatist's video. Why the...
On the 28th of September 2014 the Head of Kharkiv Regional State Administration Igor Baluta signed the official order about the dismantling of the monument to Lenin in Svoboda Sq. (Freedom Square) in Kharkiv and extract it from the State Register of Immovable Monuments of Ukraine. The Interior minister's advisor Anton Heraschenko reported about...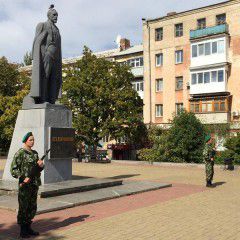 Russian paratroopers who support separatists stay in honorary guard at the monument to "father" of Soviet NKVD-KGB system Felix Dzerzhinsky in...
Destroyed BTR-82A Armoured Personnel Carrier by chance appeared in the video of Russian channel during making propaganda film near the village Novosvitlivka that is occupied by Russian troops. BTR-82A is the latest Russian development (more technical information you can read here.) It entered service in the Russian army in 2013....