Section: War & conflict
Ukraine`s representative in the humanitarian subgroup of the Trilateral Contact Group on the peaceful settlement of the Donbas crisis, MP Iryna Gerashchenko says that the number of Ukrainian hostages in Russian-occupied Donbas has increased to 127 people. She gave the update on Facebook on Thursday while commenting on a meeting with Director...
Chairperson of NGO Union of the Committees of Soldiers` Mothers of Russia Valentina Melnikova estimates that at least 1,500 Russian servicemen have been killed in Donbas, the east of Ukraine, since spring 2014, according to TV Channel 112 Ukraine. "There aren`t any exact numbers – we`ve got general estimates," she told Channel 112. "Unlike...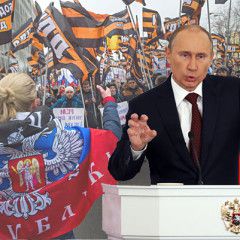 Hacked emails show that the Kremlin directs and funds the ostensibly independent "republics" in eastern Ukraine and runs military operations there, Aric Toler and Melinda Haring wrote in an article for Atlantic Council titled "Russia Funds and Manages Conflict in Ukraine, Leaks Show." In late 2016, Ukrainian hacker groups released emails...
Lithuanian leadership assured that Lithuania would continue to be a reliable partner of Ukraine in upholding its territorial integrity and sovereignty, as well as realizing the urgent tasks of the reform process, the Ukrainian Foreign Ministry`s press service told UNIAN following the meetings of Ukraine`s Foreign Minister Pavlo Klimkin with...
"Help Dima the sapper evade all enemy mines, overcome all obstacles and pay a visit to his grandmother," a labyrinth-style wargame published in the children`s magazine Polite Little People issued in occupied Luhansk tells its readers. There have been only two copies published, but the ideas outlined here are already blooming and giving fruit,...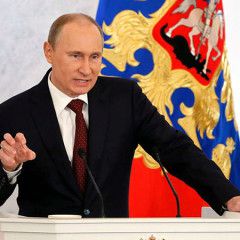 Vladimir Putin is seizing on mixed signals from the U.S. to quietly tighten Russia`s grip on two rebel regions of Ukraine, burying hopes for a European-brokered peace deal and relief from sanctions anytime soon, according to Bloomberg. While the Kremlin continues to publicly back the accord that Germany and France oversaw in 2015, Putin`s real...
Secretariat of Ukrainian Parliament Commissioner for Human Rights Valeria Lutkovska sent a letter to the Russian Ombudswoman regarding prisoner Andriy Lugin, who launched a hunger strike in a penal facility in the annexed Crimea, according to the secretariat representative, Mykhailo Chaplyga, RFE/RL`s Krym-Realii media project reports. The office...
Water supplies to the territories of Donbas beyond the Ukrainian government control may be terminated, Ukraine`s Energy and Coal Industry Minister Ihor Nasalyk told journalists following a Cabinet meeting Wednesday. This move may be taken due to the fact that these territories are in arrears in payments to the Ukrainian water utility services, as...
Russia`s hybrid military forces attacked Ukrainian army positions in Donbas 65 times in the past 24 hours, with 3 Ukrainian soldiers reported as killed in action (KIA) and 4 as wounded in action (WIA), according to the press service of the Anti-Terrorist Operation (ATO) Headquarters. View map in full size In the Donetsk sector, the enemy opened...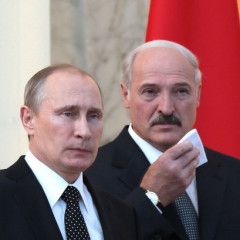 Belarus will be working for peace in Ukraine, Belarus President Alexander Lukashenko said as he visited the Chornobyl nuclear power plant on April 26, BelTA has learned. "The Ukrainian president and the Ukrainian people know our position – peace and only peace. The Ukrainians have never been strangers for Belarusians. We are close people, may...